Logan Circle Apartments in Washington, D.C.
A LOGAN CIRCLE LANDMARK
Embrace a well-balanced lifestyle! With a location in Logan Circle and apartments that are easy to maintain, Miramar Apartments is the perfect choice for those who live in the fast lane and need to take it slow sometimes. Our historic building includes studio and one-bedroom residences that are both cozy and stylish, as well as fantastic leisure spaces ready to elevate your downtime. Meanwhile, the area is a walker's paradise with bike-friendly infrastructure and an impressive 100/100 transit score. You'll also be steps away from The White House and The United States Capitol and a quick ride away from Apple, Amazon, and Howard University. Call us today to learn more!
Professionally managed by: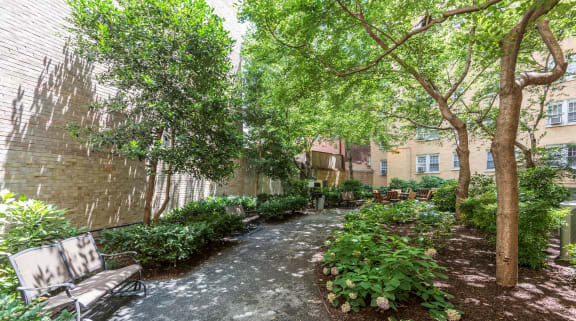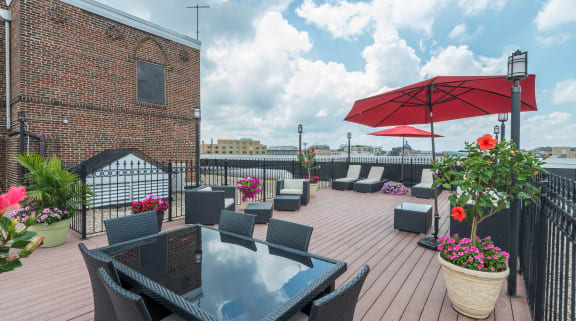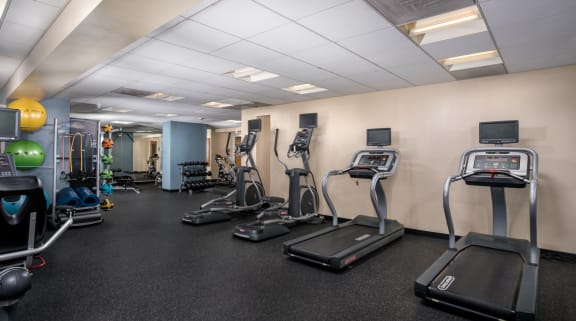 Everyone loves to relax, but our community spaces will have you thrilled about your free time. Enjoy an energizing workout early in the morning, spend the afternoon chatting or strolling around the courtyard, and then catch the sunset on the rooftop terrace.
PHOTO GALLERY
TAKE A LOOK AROUND
Discover your future home. Our apartments in Logan Circle, DC, have it all, from alluring leisure nooks to modern interiors with parquet floors, designer lights, and double-pane windows.
FLOOR PLANS
STUDIO AND 1-BEDROOM APARTMENTS
With layouts that cover between 350 and 447 square feet, these Logan Circle apartments for rent promote a minimalist lifestyle, but that doesn't mean that they lack any sophisticated features. They include everything from efficient appliances and a full-size tub/shower combo to contemporary hardware and fixtures.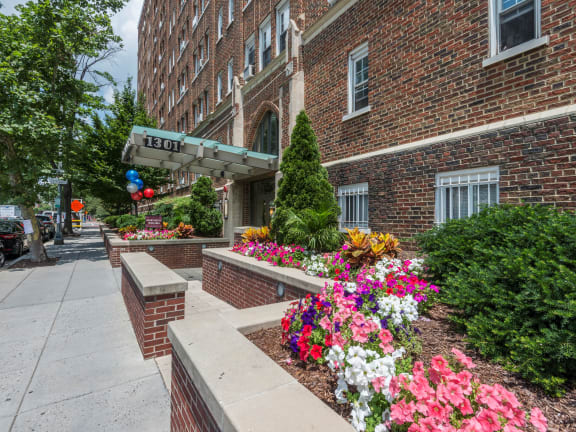 THE NEIGHBORHOOD
LOGAN CIRCLE
The location invites you to live among the capital's most iconic landmarks while enjoying easy rides to your favorite destinations. Our apartments are near Georgetown University, Wiley Rein, and the Smithsonian's National Zoo, as well as within walking distance of Vermont Avenue, Whole Foods, and Arepa Zone.
OUR RESIDENTS LOVE IT HERE
Testimonials
Still new but people are very nice. Staff is also extremely nice and willing to help. Maintenance requests are processed within hours and Jose is on the job immediately, great guy. JoAnne also super kind.

- Miramar Resident
Well-maintained building with great staff. Logan Circle location is unbeatable, easy access to downtown, DuPont Circle, and U Street. Peaceful and friendly community. Biggest selling point for me were the large closets and bathroom.

- Miramar Resident
I've had nothing but an amazing experience with this property, from leasing to living, this place is great. The management team is helpful and responsive, the facilities team is efficient and effective, and the property itself is well maintained and wonderful. I can't say enough great things about the Miramar and its team.

- Miramar Resident
Excellent! Joanne has been a fantastic property manager and the on-site team is consistently responsive, friendly, and professional. Also, you really can't beat the location for the price. It's well maintained and modernized, but still has the rich historic character one would expect in Logan Circle, along with good amenities.

- Miramar Resident
Great staff and location! The entire maintenance team is very friendly and promptly resolves any issues. The building is close to supermarkets, banks, restaurants, hotels, etc. The amenities are kept clean and in good condition.

- Miramar Resident
Amazing location! Very close to downtown and 14th street. Not super close to the metro, but stops are not too far away. Great historical aspect to the building and good sized space. Very convenient to have laundry and gym access in building.

- Miramar Resident
good! Very good and comfortable place! I like my studio! There's always enough sunshine and the air conditioner is great. The whole place is very nice and staff here are friendly and have very responsible attitude.

- Miramar Resident
I've only recently moved in, but I really like it so far. Building management has been very nice and responsive. Great location. I appreciate that I can walk to most metro lines. Very quiet. Very beautiful building.

- Miramar Resident
No issues so far. Maintenance is always around which is nice. Emails and calls are always answered promptly. Elevators are always working, no issues with the laundry room or gym. Great experience so far

- Miramar Resident
The Miramar has nice apartments that's really at an amazing location. Mostly quiet and the facilities are kept clean. Staff are welcoming, professional, and helpful. Fun mix of community members and neighbors.

- Miramar Resident
I've enjoyed living at Miramar! It's clean, quiet, and the staff responds quickly to any issues/maintenance issues. Super close to grocery stores and restaurants/ shopping. Great price for the location.

- Miramar Resident
This community is a great value due to the great location. The building has great history, I love the original parquet floors. Maintenance and office staff is very attentive and communicates well. The staff definitely tries their best to make the place feel like home.

- Miramar Resident
Thank you happy to be here. Convenient locations, middle of DC, close to subway, close to Grocery stores. Cozy building, good staff, gym included. What else you can ask for? Thank you thank you thank you

- Miramar Resident
Apartment is affordable, clean and in prime location! I wouldn't live anywhere else in the district. Management is prompt to fix issues when they rarely arise. Area is safe and building is secure. I also haven't had any bugs or mice, as I have experienced in other buildings.

- Miramar Resident
I have stayed in this building for more than 10 years not only because the location can't be beat, but the management team really makes it feel like home. I have had some emergencies over the years and the staff has been able and willing to assist me at any time of day or night!

- Miramar Resident
GET IN TOUCH
Interested in visiting our property? Fill out the form or call the number below and we will reach out to you shortly! We look forward to hearing from you!